Welcome all explorers!



Welcome to the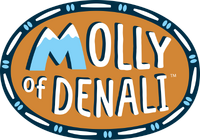 Wiki
4 Explorers are currently editing over 380 articles, 10,407 edits, and 1,930 files.
Now you can follow Molly of Denali on



---
A wiki dedicated to the podcast and animated action-adventure comedy series Molly of Denali, the first nationally distributed children's series in the U.S. featuring an Alaska Native as it's lead character.
Fans and anyone interested in the series are welcome to contribute and help this wiki grow for all things related to Molly of Denali.
The show follows the adventures of feisty and resourceful 10-year-old Molly Mabray, an Alaska Native girl. Each episode follows Molly, her dog Suki and her friends Tooey and Trini on their daily adventures in Alaska, from fishing to building snow forts to delivering a camera to friends on a volcano via dog sled.



News






Helping Out



Not sure where to start?
Adding content



Fanon




As we try to keep a good, clean, and canon database for Molly of Denali, we don't want the wiki to be cluttered with fanon material. You may upload, however, clean fanon pictures to your user page and/or blog. Check out the Fanon Wiki, for fanon material as well!

Notice

To edit Molly of Denali Wiki, you must sign in. If you are 13 years of age or older than click here to sign in and start editing! If not, you are not allowed to make an account due to the Children's Online Privacy Protection Act (AKA: COPPA).

Social Media

Featured Character of May
---
Molly of Denali © 2020 WGBH Educational Foundation. All rights reserved.